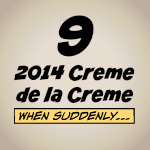 This is the 9th year running that Mel at
Stirrup Queens
will be putting together a Creme de la Creme list of your favorite blog posts. Do you have a favorite post that you have written? Something that came from the heart and means a lot to you? For a first time visitor to your blog, what post would you direct them to read first?
Tomorrow is the last day to submit your post to be on this years Creme de la Creme list. Tomorrow at midnight is the deadline. Be sure to get yours submitted! This is a great way to introduce your blog to others, and increase your own blog traffic, in addition to finding other great ALI blogs to read as well. To add a post of your own to the list, click
here
to fill out the form and make your submission.
Don't be shy! Just do it! Mel has also stated that she thinks this might be her last year doing the Creme list, so this may be your last chance to be a part of this great project!